Disclosure:

Links in this post may be to our affiliates; sales through affiliate links may benefit this site. Please help support this website by patronizing Amazon. It won't cost you anything extra.
The BMCC has an in-built mono microphone and mono speaker – both of which are perfect for unimportant home movies.

It has two 1/4″ TRS jacks for professional balanced analog audio, switchable between mic and line levels. It has one 3.5mm TRS jack for headphones. Here's what they look like:


The right-most is the 1/4″ jack, and the two in the middle are 3.5mm jacks.

So, what's a 'balanced analog audio' signal?

The 1/4″ TRS has two conductors, called the tip and the ring. The pyramid-shaped tip is the tip, and the space between the two black rings (insulators) is the ring. In an unbalanced system, the tip is the left channel and the ring is the right channel – which means each connector is capable of stereo sound.

However, on a balanced signal, the 1/4″ TRS connector only gives mono sound, which is why BMCC has two of them.

1/4″ TRS connectors are smaller than XLR connectors, so it is clear why BMD decided to use them instead. In all the marketing material they've put up, you don't see much reference to audio, and even their technical specs doesn't clearly state what audio signal is being recorded. The specs state that the SDI connector is capable of 4 channel 24-bit 48 Khz audio.

What are the disadvantages of 1/4″ TRS connectors?
From wikipedia: The socket grounds the plug tip and ring when inserting or pulling out the plug. This causes bursts of hum, cracks and pops and may stress some outputs as they will be short circuited briefly, or longer if the plug is left half in.
So it is critical that the connectors aren't touched during operation – which brings us to the second disadvantage: There is no 'lock' as in XLR connectors. It's easy for someone to step on the microphone cable and ruin a take. The last disadvantage is that TRS connectors cannot give phantom power (which means supply power to) to the microphone – so you're going to have to depend on batteries.

Even so, if you're willing to live with all the limitations of a balanced TRS system, one can't argue that there is any loss in quality due to it.

Assuming the BMCC records uncompressed Linear PCM 24-bit sampled at 48Khz mono (x2 channels), the bit rate is approximately 2250 kbps total. This is perfectly fine for situations where only two microphones are required. I'll call this type of recording 'level one'.

You could also use an external audio recorder. An external recorder can record at a better format, has more microphone and preamp options, etc. This is 'level two'.

Level three is recording audio separately, with no relation to the camera. This is the only way to get the best audio quality – perfect for broadcast and feature film work. Your hands aren't tied here, and this setup gives as much creative freedom to a sound recordist as the camera does to a DP. If I had a choice, I'd always choose level three.

Whatever levels and audio controls the BMCC has, they are not variable while recording. I don't think any audio professional would love to look at the 5″ display and fight for screen time! As far as I'm concerned, I'll never consider level one for any serious work.
LEVEL TWO Minimum level for flexibility and professional quality
Instead of controlling audio in camera, you can use a device (or a bunch of devices) that goes between the microphone and camera – to do a variety of tasks like record, mix, amplify, etc.

Recorder, Preamp and basic Mixer

This little baby is all rolled into one, and is my choice:


Zoom H4n Handy Portable Digital Recorder
Microphones

You can go two ways here: shotgun and lavalier. I prefer shotguns for their excellent sound quality. For corporate work, interviews, etc., where capturing room tone isn't a big deal, and heavy mixing isn't expected, lavaliers are perfect.

Shotguns have one disadvantage – you need a boom operator to really take advantage of it. Not many productions can afford an extra person for that purpose alone. And no, your assistant or better half is not a boom operator. Contrary to popular belief, a good boom operator has great presence of mind, knows a great deal about sound, and loves sound. If only upper body strength was required, one might as well use a stand.

I prefer to have both booms and lavs on any production – think of it as shooting with multiple cameras. I get two perspectives.

My favorite shotgun microphone, the one I own and use, is:

Sennheiser ME66 Professional Shotgun Microphone with K6 Dual Powerd Module
Obviously, you'll need a microphone cage, holder, windjammer and boom pole:

K-Tek Zeppelin Microphone Wind Protection System
If going lavalier, try to go wireless. My choice is:

Sennheiser EW 100-ENG G2 Wireless Lavalier Microphone System
XLR cables

Use only the best quality, and choose your length wisely based on your requirements:

K-Tek 1.5′ to 9′ XLR Male to XLR Female
Adapters

If you plan on using your recorder only as a preamp, or if it runs out of batteries and you have to record directly to camera, you'll need XLR to 1/4″ TRS adapters:

Monster MCL MSTFX 1/4 Stereo Male to Female XLR Cable Adapter
I recommend the same headphones as in level one.

This is what a full production audio cart might look like (Mark LeBlanc's setup, click here for his gear list and to contact him):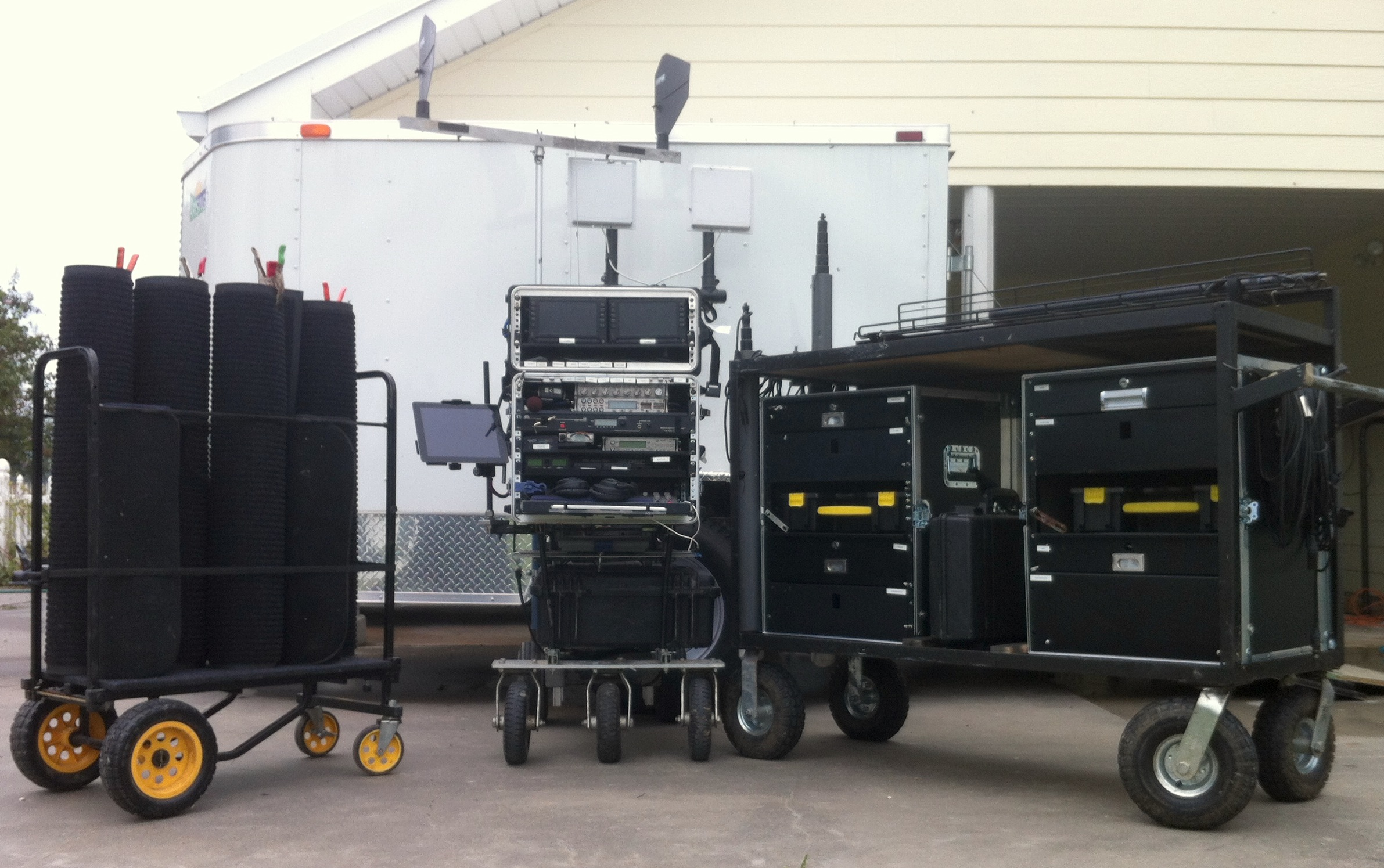 You know your audio is on par with your camera gear when they weigh the same!

That's all for audio. In Part 5 I'll cover viewfinders, external monitors and power supplies.

Next: Part 5: External Monitors, Viewfinders and Power Supplies
Previous: Part 3: Matte Boxes and Follow Focus Systems
If this post helped you, please buy me a
Please share this post with your friends: