Here's a look at the new Zoom F8 Audio Recorder:
The F8 is made for serious filmmakers and sound designers.
With 8-input/10-track recording, super low-noise preamps, and support for 24-bit/192kHz audio, the F8 captures the highest-quality audio.
Here are some important features:
…our finest mic preamps to date, the F8 features an extremely low noise floor (?127 dBu EIN) and high gain (up to 75 dB), with +4 dB line inputs.

The F8 can record at 24-bit/192 kHz resolution and is equipped with onboard limiters designed to provide overload protection. Limiting can be applied to all 8 channels simultaneously at full resolution, with 10dB of headroom and controls for setting threshold, attack, and release.

The F8's time code is state-of-the-art. It utilizes a precision oscillator that generates time code at 0.2 ppm accuracy, enabling rock solid syncing of audio and video.

The F8 supports all standard dropframe and non-drop formats, and can jam sync to time code being provided by external devices. An input and output are provided on standard BNC connectors, enabling easy integration into any rig.

…it is the smallest field recorder with eight XLR combo inputs ever made. Weighing just 2.1 pounds (without batteries), its aluminum chassis is both rugged and durable.

…2.4 inch full-color backlit LCD (which can be set to monochrome mode), make the F8 easy to use in any environment — from low-light to direct sunlight.

The F8 records in BWF-compatible WAV format at 16 or 24-bit resolution, and at any standard sample rate up to 192 kHz. When recording files in MP3 format, you can choose bit rates of 128, 192, or 320 kbps.

Phantom power (+24V/+48V)

10 tracks—8 input channels, plus a stereo mix track*—allow you to simultaneously record stereo and surround sound.

An onboard mixer with flexible routing of all inputs and outputs (pre- and post-fader)

Tripod mount

Record on two SD/SDHC/SDXC cards, up to 512 GB each

Three power sources – A 4-pin Hirose connector allows the use of external 9-16 volt DC battery packs. Internal power is provided by 8 AA batteries. The F8 can switch power sources from a DC battery pack to the AA batteries at a user-defined voltage level for uninterrupted recording. You can also use the supplied 12 volt AC adapter when not on the go.

…pre-record function allows you to capture up to 6 seconds of audio before you hit the RECORD button.

dedicated ¼" headphone jack with a front panel volume control…

You can set headphone alert tones for low battery, recording start/stop, or recording errors. The F8 comes equipped with a built-in 100 mW headphone amplifier, allowing you to monitor in the noisiest of environments.

…wireless Bluetooth control. The Zoom F8 Control App for iOS provides extensive wireless remote control of the F8 from your iPhone, iPad, or iPod Touch (5th Gen) using Bluetooth LE protocol

8 discrete inputs with locking Neutrik XLR/TRS combo connectors

…four outputs: two Main Outs (on balanced TA3 mini-XLR jacks) for connection to external mixers and processing devices; and two Sub Outs (on a single unbalanced ?" stereo mini-jack) for connection to a camera

A USB port enables firmware updates, file transfer, and allows the F8 to be used as an 8-in/4-out USB audio interface operating at sample rates up to 96 kHz.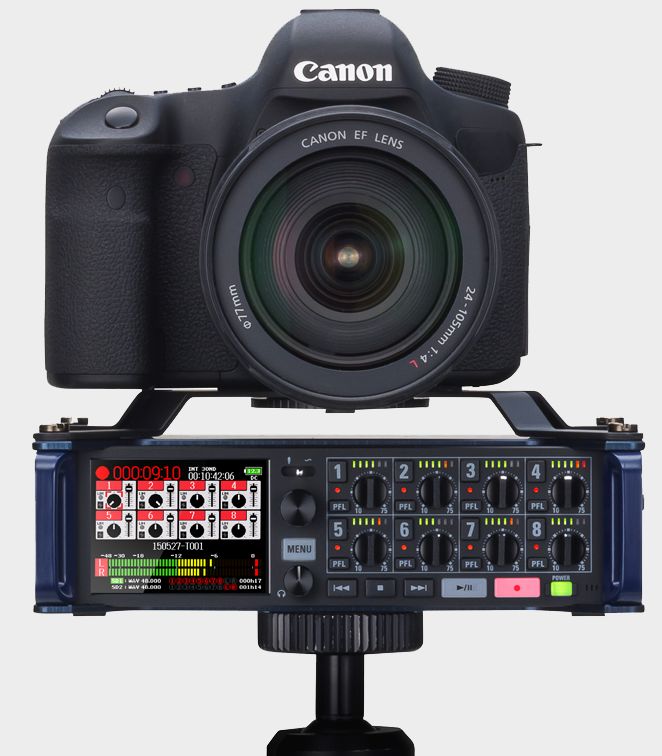 Here's what comes included with the F8
Camera mount adapter
Zoom AD-19 12V AC Adapter
Operation manual
TA3 to XLR cable x2
Cubase LE and WaveLab LE download codes
Price? B&H Lists the Zoom F8 at only $999.99 – that's a steal considering how much a similar Sound Devices recorder+mixer costs. Will the quality be the same?
Expected availability: August 2015