LEVEL TWO Minimum level for flexibility and professional quality
Instead of controlling audio in camera, you can use a device (or a bunch of devices) that goes between the microphone and camera – to do a variety of tasks like record, mix, amplify, etc.
Once you have your audio the way you want it, you can route that into your camera audio system and record it in the format your camera dictates.
The advantage of this method over level one is that you get to control your audio precisely.
The advantage (sometimes huge) of this method over level three is that you can record your audio along with your video, in sync, for a faster editing and post-production workflow. This is perfect for talking shots.
The disadvantage is when you need to mix in other kinds of audio, like effects or looping, etc. That's when you relish the prospect of total control, which only level three provides.
Recorder, Preamp and basic Mixer
This little baby is all rolled into one, and is my choice:

Zoom H4n Handy Portable Digital Recorder
One could argue that level two is recording independently of camera. But level three is something else.
If you're not that budget conscious, I'd easily recommend my favorite shotgun microphone, the one I own and use:
Sennheiser ME66 Professional Shotgun Microphone with K6 Dual Powerd Module
Obviously, you'll need the rest of the boom kit as explained under level one.
You could also split up your devices, as we'll see in level three, and then route that back to the camera instead of recording separately. Perfectly acceptable, and is probably the fastest way to work.
Everything else is as recommended in level one.
LEVEL THREE Ultimate flexibility and professional quality
This is to audio what camera and lenses are to video. This is you telling your audio person that you trust, appreciate and want his/her creative juices, and you are willing to let him/her take total control.
It's not easy for a filmmaker or producer to relinquish that control. It's easy for any idiot to look at a production monitor and comment on a shot, making the DP's life hell. But only a master of sound can understand the quality of a 'piece of audio recording', and its ultimate place in the final mix.
Fascinating, that there's a level of mastery here that few filmmakers appreciate, even though digital audio technology has been around longer than digital cameras.
This is what I would recommend for such a shoot:
Slate/Clapper board
Now you know you're in the big leagues! I've already made my recommendations in Making the Connections (Part 4).
Recorder
This is the audio engineer's version of a camera, so to speak. Only the best will do. This will give you four-track recording:
A portable backup:
Marantz PMD661 Portable SD Recorder
Mixer
To make use of four track recording, you'll need a mixer that is up to the task:
Sound Devices 552 Production Mixer

A mixer is like a musical instrument. This is where the magic happens.
Microphones
For shotgun microphones, try the reigning world champion:
Sennheiser MKH60P48 Super-Cardioid Microphone
Don't forget to add the K-tek boom kit listed in level one. These are a perfect match!
For wireless lavaliers, try (You might need at least 2 or 3 kits):
Sennheiser G3 Wireless System
Headphones
Sennheiser HD800 Over-Ear Circum-Aural Dynamic Premiere Headphone
Technical Monitoring
If you want a laptop solution, check out Wave Agent.
With it, you can view and edit metadata, monitor up to 12 tracks in real-time, correct timecode, batch edit, etc.
To know more about audio monitoring using the Wave Agent, check out this video:
If you want to go fully technical, the Tektronix AMM768, other than providing everything you could possibly need including Dolby support, provides a full surround sound 5.1 display, so you can 'see' your audio:
Such a system provides solid monitoring, especially in an HD-SDI pipeline. One of the cooler things about HD-SDI (the surprises just keep coming, don't they?) is that it can output excellent audio, and this is great for routing audio to a system like the AMM768.
HD-SDI audio, precisely SMPTE 299M, offers up to 16 channels of 24-bit 48 KHz PCM audio. With Dual HD-SDI or single 3G-SDI you can have 32 channels!
Keyboard/Remote Interface
If you like to have a single control point, especially when dealing with software, then a keyboard and remote control interface like the CL-1 is beneficial.
Racks/Carts
See, by the time you rig your audio gear, you'll need a cart. You can set it up with rack mounted units, like those used in servers, or any other way you like.
HD Mixer & Audio Transportation & Storage Rack
This is what a full production audio cart might look like (Mark LeBlanc's setup, click here for his gear list and to contact him):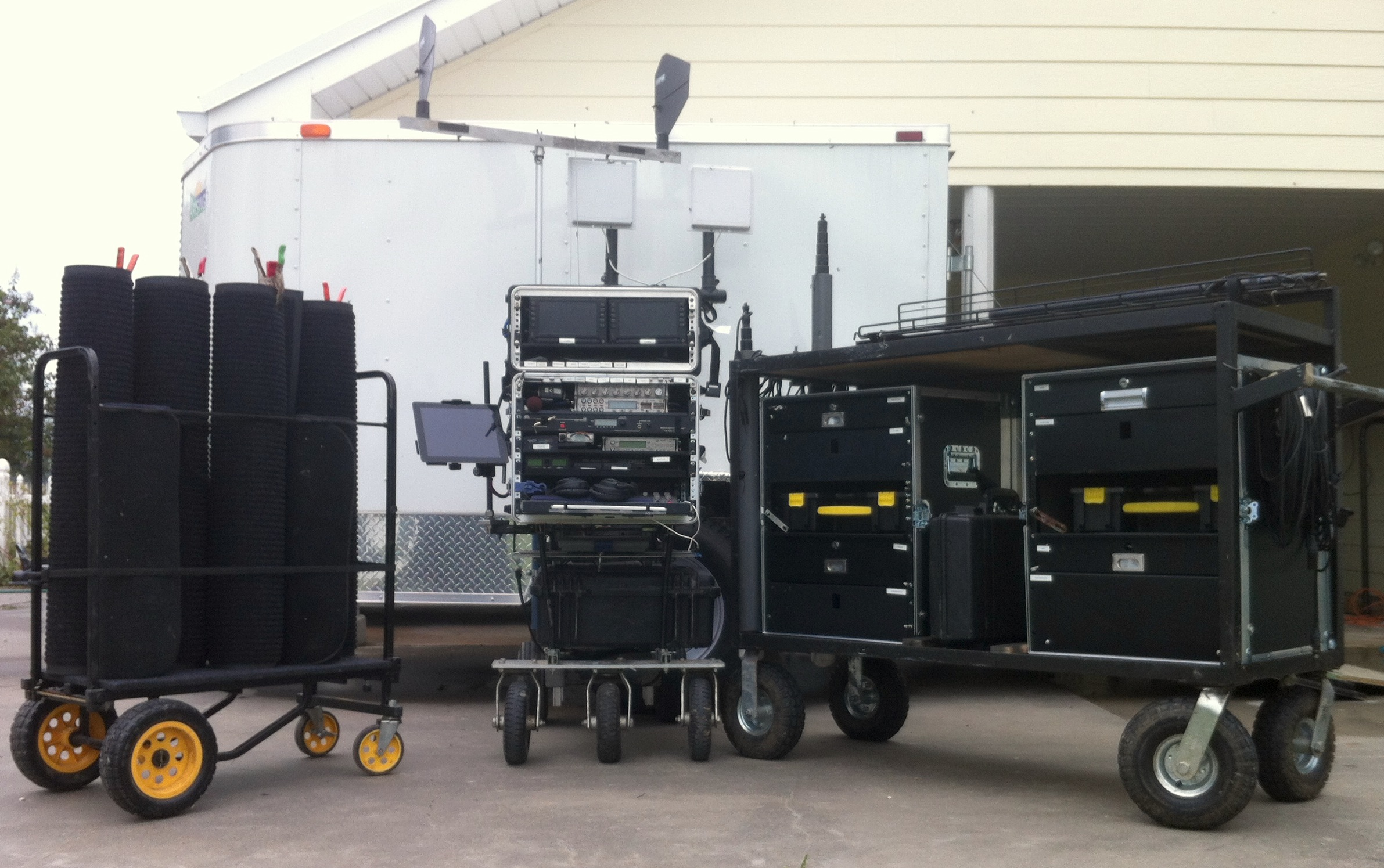 Rule of thumb: You know your audio is on par with your camera gear when they weigh the same!
That's all for audio. In the next chapter will look at Power Supplies.
Next: 14: Power Supplies Part 1
Previous: 13: Audio Part 2