Source:Sony
and DPReview
Sony announces the full frame mirrorless A7 and A7R Cameras, both will be available on December 1st, 2013:
Sony Alpha 7
Sony Alpha 7R
Price (body only)
$1,698
$2,298
Max resolution
6000 x 4000 (24 MP)
7360 x 4912 (36.1 MP)
Sensor
Full frame (35.8 x 23.9 mm) 14-bit
Full frame (35.9 x 24 mm) 14-bit
ISO
100-25600
Lens mount
Sony E Mount
LCD Screen
3 inch tiltable, 1.23 million dots – no touch
Viewfinder
Electronic, 100% coverage, 0.71x magnification, 2.36 MP resolution
Minimum shutter speed
30 sec
Maximum shutter speed
1/8000 sec
Flash
No
Continuous shooting
5 fps
4 fps
Video Codecs
AVCHD, up to 29 minutes
Microphone
Stereo
Speaker
Mono
Resolutions
1920 x 1080 (60p, 60i, 24p), 1440 x 1080 (30p), 640 x 480 (30p)
Audio ports
Headphone and microphone ports, XLR support via adapter
Media
SDHC/SDXC, Memory Stick
HDMI
micro-HDMI (D) with clean feed uncompressed HD output
Wireless
Built-In
Environmentally sealed
Yes
Battery
NP-FW50 lithium-ion battery (1080 mAh) and charger
Weight (inc. batteries)
474 grams
465 grams
Dimensions
127 mm x 94 mm x 48 mm (5.00″ x 3.70″ x 1.89?)
The 36MP version does not have an optical low-pass filter (OLPF), so is a direct contender to the beefy Nikon D800E, and worlds above the current capabilities of a Leica M 240. The video mode options are good on paper, with 1080p60 and uncompressed clean feed via HDMI, but who knows how it'll perform in real life?
Both cameras are weather-sealed. Needless to say, the A7 is a full frame camera for only $1,698
, while a Canon 6D is about $1,900 and twice the size and weight.
One strange quirk is that there are no external chargers shipped with the cameras. You'll have to charge the batteries internally via USB, or buy separate chargers.
Here's a video overview of both cameras:
Of course, one real practical limitation (which I'm pretty sure is temporary) is the E-mount. So far, Sony's lenses have mostly been for the APS-C or Super 35mm segment. Now that the E-mount must also have lenses for full frame sensors, Sony has a few lenses lined up (from the press release):
There are a total of 5 new full-frame E-mount lenses designed to take full advantage of the powerful imaging capabilities of the A7R and A7 cameras, including mid-range zoom lenses from Sony and Carl Zeiss, two bright Zeiss Sonnar T*™ prime lenses and a premium-quality G Lens™ telephoto zoom. Sony's growing E-mount interchangeable lens lineup now consists of 21 different lenses including the new full-frame models.

In addition to the new lenses, there are also two new-generation mount adaptors that give photographers the ability to utilize full-frame Sony A-mount optics on the A7 and A7R cameras. The LA-EA3 ($200) adapter simply adds compatibility for existing A-mount lenses the new cameras, while the LA-EA4 ($350) model adds the ultra-fast focusing and shooting capabilities of Sony's innovative Translucent Mirror Technology.

There is also a new vertical grip (VG-C1EM, $300) that offers greater comfort during vertical shooting and can accommodate two separate NP-FW50 batteries for extended battery life and shooting time. A new BC-TRW compact external battery charger that quickly charges batteries and is great for travel, and FA-CS1M off camera shoe allows the use of external flashes (HVL-43M, 20M) in off-camera wired applications. Additionally, the new LCS-ELCA premium soft leather carry case ($140) protects the A7 and A7R cameras from scuffs and marks while being carried.
The lenses are:
| | |
| --- | --- |
| Lenses | Price |
| Carl Zeiss 24-70mm F4 | $1,199 |
| Sony 70-200mm F2.8 G | $3,000 |
| Sony 70-200mm F4 G | n/a |
| Carl Zeiss 35mm F2.8 | $799 |
| Carl Zeiss 55mm F1.8 | $999 |
The Sony A7 will also be available with a kit lens, the 20-70 mm f/3.5-5.6 OSS, for $2,000. The kit lens is not sold separately. The problem is that among all the lenses listed above, only the 35mm f/2.8 will be available in December when the camera ships.
DPReview writes, in its first impressions report:
We're slightly surprised by Sony's strategy here, to be honest: it seems a bit odd to be making two different standard zooms to start with, rather than adding a wide-angle zoom. And while it's great to see a couple of primes, both look somewhat slow given their prices, and the 55mm F1.8 is a bit long for a 'normal' lens too. We'd have loved to see a fast 'portrait' lens in the 85mm to 135mm range early on, but hopefully Sony will offer one soon.

The two cameras are perfectly capable of using existing E-mount and A-mount lenses, and you have the choice as to whether the image is cropped. If you choose to crop, the resolution will drop to 15 megapixel on the A7R and 10 megapixel on the A7, and the equivalent focal length will increase by 1.5X. Sony also gives you the option not to crop and use the entire sensor, though this may lead to strong vignetting (and for most lenses, probably will).

Sony's A-Mount lenses will require the use of an A- to E-mount adapter. Slightly confusingly Sony now offers no fewer than four such adapters, which differ in their autofocus capabilities and format coverage. The LA-E1 and LA-EA3 offer contrast detect autofocus for lenses that have built-in focus motors (i.e. SAM and SSD), but only manual focus with other lenses, while the LA-EA2 and the new LA-EA4 use Sony's 'Translucent Mirror Technology' to offer autofocus with all lenses.

It's well worth noting that the A7(R) will also be able to accept a huge range of other lenses via readily-available third-party adapters, including old manual focus lenses from long-dead systems such as Minolta MD, Olympus OM, and Canon FD, as well as those from current systems such as Nikon F, Pentax K and Leica M. What's more, in principle these lenses should offer the angle of view they were originally designed to give – a 24mm will be a true wide-angle again, for example. So if you have a cherished collection of old manual focus primes sitting in a closet, the A7 may be just the camera to bring them back to life.
But, have no fear! Samyang is here!
Quick on the heels of the Sony announcement Samyang has introduced five new full frame E-mount lenses, all based on their existing lenses – 14mm f/2.8, 24mm f/1.4, 35mm f/1.4, 85mm f/1.4, and the T-S 24mm f/3.5. They are all manual focus only, and will be available within 2 months.
DPReview writes:
As these are essentially SLR lenses with an adapter tube permanently fitted, they won't offer any of the size advantages achievable by 'native' lenses.
This is in reference to Samyang's press release, which states:
All lenses guarantee high quality image with simultaneously high aperture. Use of lenses made of special optical glass along with aspherical elements allow to effectively eliminate optical defects, together with care of the highest performance.

Samyang Sony E-mount series will allow all Sony NEX owners to fully experience high quality optics without additional adapters.
Sony has already made many pre-production models available to various photographers around the world – for 'testing' and marketing. But their words matter.
Steve Huff compares the cameras with the Leica M, Olympus EM1 and the Sony RX1:
He writes:
How could I not put a Leica 50 Summilux on the A7r..a 36 Megapixel monster with the latest sensor tech out there? When I did..let me tell you..what I saw in the EVF was amazingly good.

Some have been asking me questions about the shutter. Yes it is loud and clunky.

Same menu as RX1, A99, etc. You will NOT see or be able to access a NEX menu. Also, this camera is not a NEX or CyberShot camera, it is an Alpha camera.
Pulitzer Prize-winning photographer Brian Smith has conducted a field test and has an extensive report (with some gorgeous photographs, too):
As you can see the A7R comes in just under the height of the RX1 with EVF and the A7R and A7 solid body construction features a built in OLED EVF used n the a99.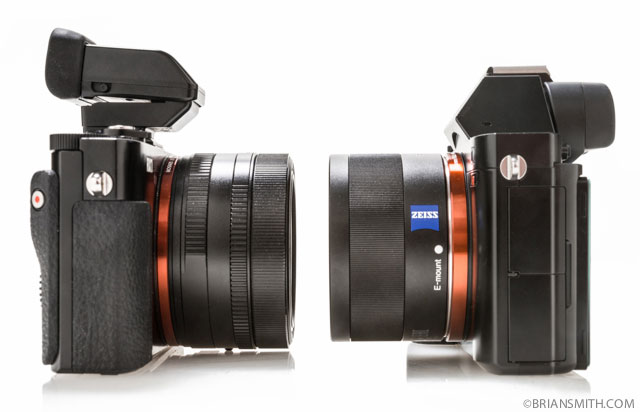 I headed out onto the streets with the A7R, FE 35 F2.8 ZA and FE 55 1.8 ZA lenses, CZ 85 F1.4 with a LA-EA4, and a pair of Leica M-mount lenses, the Leica 24 F2.8 and Zeiss 18 F4

I like this camera a LOT. The focus on the A7R seems to be very fast. It locks it very quickly without any hunting and I'm certain the A7 is even faster using Phase-Detect AF.

The A7R feature the most lifelike colors I've ever seen from a digital camera. Thanks to the lack of AA filter, the images are incredibly sharp and the files look really clean. The dynamic range is really incredible holding detail from highlights to the deepest shadows. I'm told that the BIONZ X image processing engine is the key. Whatever it is, the files are awesome.

Metabones Canon EF Lens to Sony NEX Smart Adapter (Mark III) is Metabones third-generation Smart Adapters allow you to mount Canon EF and EF-S mount lenses on Sony a7R and a7 full-frame cameras. It retains existing features such as a detachable AS-style quick release plate, chrome-plated brass for all mounting surfaces, EXIF, autofocus and image stabilization (IS) lens support.
Michael Reichmann of Luminous-landscape writes:
Actually it is the very nice built-in ergonomic grip that gives it a slightly larger size. Otherwise it's very close to the RX series.

The R designation at the end of the model name means that the camera does not have an anti-aliasing filter over its sensor, which might a greater possability of moire, but also a higher resolution image. (At 36MP, moire is of diminishing concern).

The A7R feels terrific in hand. There is heft, but it's not too much. It is a small camera, but not so small that the controls don't fall conveniently to hand. Frankly, I find it to be one of the nicest cameras to hold and use in a long time.

In my opinion, anyone who owns a set of (or even a few) high quality M series Leica optics should seriously look at the Sony A7R. They make for a killer combination, and the Sony costs less then a third of an M240 camera. Just test that the lenses that you plan on using work as you expect before taking the plunge.

I also tried several of my Nikon lenses using a Novoflex adaptor (with aperture control ring) and they too worked just fine, including the superb 14-24mm Nikkor. There is some chromatic aberration visible on some lenses at some apertures, but a trip to the Lens Correction tab in Lightroom or Camera Raw / Photoshop makes short work of this.

Being a Sony, naturally the A7R has excellent video – for a still camera, of course. It features AVCHD at 24P and 60P, and the European varients. There is an external audio input and audio meters as well as a headphone jack. There are settable zebras and the video button is recessed and located on the side of the camera.