have finally released two adapters (Speed Boosters) for the Blackmagic Cinema Cameras that go wider than ever before. From the press release:
Metabones® and Caldwell Photographic Inc. are pleased to jointly announce two new Nikon-F to Micro-4/3 mount Speed BoosterTM adapters designed exclusively for the Blackmagic 2.5k Cinema Camera (BMCC) and the Blackmagic Pocket Cinema Camera (BMPCC), with magnifications of 0.64x and 0.58x, respectively.

Note that the new Speed Boosters will only attach to Blackmagic cameras equipped with a Micro-4/3 mount. They cannot be attached to standard Micro 4/3 cameras.
The new 0.64x Speed Booster reduces the full-frame crop factor of the BMCC from 2.39x to 1.53x, thus effectively transforming it into a Super-35 format cine camera. In addition, the speed of any attached lens is increased by 11/3 stops, with a maximum output aperture of f/0.80. For example, a 50mm f/1.2 becomes a 32mm f/0.80, and Sigma's new 18-35mm f/1.8 will become an 11.5-22.5mm f/1.1.

The new 0.58x Speed Booster reduces the crop factor of the BMPCC from 2.88x to 1.75x, and produces the largest aperture optics currently available, with a maximum output aperture of f/0.74. For example, a 50mm f/1.2 now becomes a 29mm f/0.74, and the Sigma 18-35mm f/1.8 becomes the world's fastest zoom lens at 10.5-20.3mm f/1.0 with stunningly sharp performance.

In addition to increasing lens speed and field of view, both of the new Speed Boosters significantly increase the lens MTF. The graph below compares MTF at 20 lp/mm for the Nikon 50mm f/1.2 by itself and combined with each of the new Speed Boosters. For both the 0.58x and 0.64x versions there is a dramatic performance enhancement near the center of the image, but there is also a moderate performance improvement in the outer parts of the image as well. This is especially impressive when you consider that the Speed Booster MTF is evaluated at f/0.80 and f/0.74, respectively, while the native 50mm lens is evaluated at f/1.2.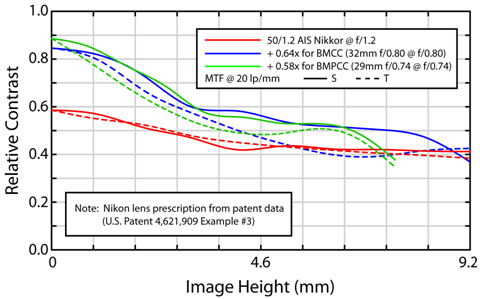 Nikon mount versions of both new Speed Boosters feature an improved version of Metabones' unique manual G aperture adjustment mechanism, which has the same angular throw distance as earlier Nikon Ai/AiS lenses. This improved version features a linearized f-stop adjustment as a function of aperture ring adjustment angle. The mechanism is clickless in order to maximize its usefulness to cinematographers.

Both new Speed Boosters can be used with FX and DX lenses, including DX lenses with fixed lens hoods (e. g. Nikon 10.5mm/2.8 fisheye or Sigma 8-16mm/4.5-5.6 ultra-wide zoom). In case of the 0.64x Speed Booster on BMCC, the original FOV of DX lenses is fully restored; a 180° fisheye remains a 180° fisheye.

The new Speed Boosters will be available starting in December 2013 from the Metabones website and its worldwide dealer network for $489 plus shipping and applicable taxes and duties.
Compatibility and resulting crop factors:
Speed Boost
Max. Aperture
Crop Factor on Camera*
m4/3
BMCC
BMPCC
Plain adapter
2x
2.39x
3.02x
(native crop factor)
0.71x Speed Booster m4/3
1 stop
f/0.90
1.42x
1.7x
2.14x
0.64x Speed Booster BMCC
1 1/3 stop
f/0.80
n/a**
1.53x
1.93x
0.58x Speed Booster BMPCC
1 2/3 stop
f/0.74
n/a**
n/a***
1.75x
*) Based on diagonal field of view

**) Do not attempt to mount – physical damage may occur

***) Can be mounted, but does not cover the full sensor with most lenses
Andrew Reid and Philip Bloom both have articles reviewing the two adapters.
Andrew states:
It's with the new Sigma 18-35mm F1.8 that I feel this adapter is a massive breakthrough. The two perform superbly together. On the Blackmagic Cinema Camera the Sigma actually breaks a record – the world's fastest Super 35mm zoom. A stunning 11.5-22.5mm F1.1 with the new BMCC Speed Booster. It goes to F1.05 on the Pocket Cinema Camera and the wide end benefits from actually being wide! Nearly 28mm in full frame terms.

During my shoots I discovered that most Nikon mount lenses performed superbly with the new Speed Boosters on both BMCC and BMPCC. The Tokina 11-16mm at the wide end does appear to have very soft corners though.

The only real issues I ran into were when shooting into areas with a lot of bright highlights and dark areas meshing together.

Here for example the flare from the bulbs would ghost into the shadows at the bottom of the frame…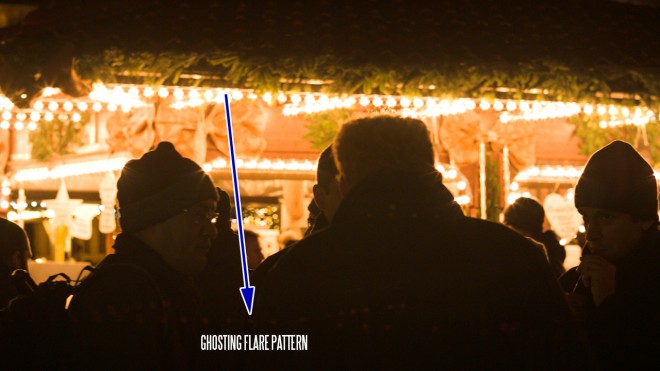 Watch his video here:
You can read his post here. Watch Philip Bloom's video here:
Here's how much wider you can go:
I feel it makes an excellent addition to the Blackmagic Cinema Camera lineup. What do you think?