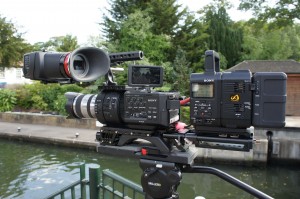 Alister Chapman writes about his experiences with the Sony FS700 and Convergent Design Odyssey:
I spent quite a bit of time last week shooting in 4K with a FS700 using Sony's IFR5 adapter and R5 recorder. I have to say that the pictures are really amazing. The dynamic range is incredible and the resolution and clarity beautiful. I'll be posting a clip in the next few days and you'll be able to see the footage at IBC.
To download some test footage and to read the entire report, click here.