The Zeiss Otus 55mm f/1.4 is touted as one of the best lenses on earth. For $4,000 it better be. From Carl Zeiss:
Spectacularly detailed portraits full of contrast. High fidelity images and exceptional performance into the corners even at full aperture. The Otus 1.4/55 makes absolutely no compromises and brings together over a century of ZEISS optical and technical excellence. This standard lens is the exception to the rule: perfect optical correction eliminates nearly all possible flaws, from color fringes and distortion to chromatic aberrations. With the highest contrast performance over the entire image field, even at an aperture of f/1.4, this lens offers the spectacular medium format look when working with a modern SLR camera. Phenomenal detail and exceptional performance, regardless of whether it's using available light or in the studio, the Otus 1.4/55 is the absolute best lens in the world today.
Big words. Does it perform as advertised? Let's see. First, here are some specifications:
Focal length: 55mm
Aperture – f/1.4 to f/16
Filter thread – M77 x 0.75 (77mm)
Mounts – Nikon ZF.2 and Canon ZE
Weight – ZF.2: 970 g (2.22 lbs) and ZE: 1030 g (2.43 lbs)
Focus ring throw – 248 degrees
Minimum focus – 19.7 inches

Roger Cicala published his review at PetaPixel:
The Otus is large for a prime lens, but not significantly larger than the everyday zooms we use.

I can't say what you'll think of the appearance, but I love it. Very sleek and minimalist. The focus ring has the typical smooth Zeiss throw with a cinema-like 248-degree rotation. I found it extremely accurate.

…

It's worth noting how smoothly the resolution goes up with decreasing aperture, basically maximizing by f/4. Not that f/4 is necessary to get great resolution. By f/2.8 this lens is already sharper than most excellent lenses will get at any aperture. Here are some comparisons of the Zeiss at f/2.8 with other lenses at f/4 or f/5.6.


By f/2.8 the Otus has higher resolution than any of the other lenses we've tested, even when those lenses are stopped down to their best resolution. (Those are D800 results, not D800e, so they would all be slightly higher on the 'e', but the illustration is still pretty clear.)

Finally, I'll note that the Otus has a very low 0.8% distortion.
DXOMark has posted their results and review as well:
…this fast standard is a retrofocus full-frame (35mm format) model, but the 55mm focal length also works well on APS-C cameras, where it has a field of view equivalent to that of a 85mm.

…it's a manual focus design with automatic aperture coupling and CPU contacts.
The Nikon mount (ZF.2) version also retains a manual aperture collar and provides backwards compatibility with older Nikon SLRs as well as being a useful option for filmmakers.
I found this one image more instructive than any other: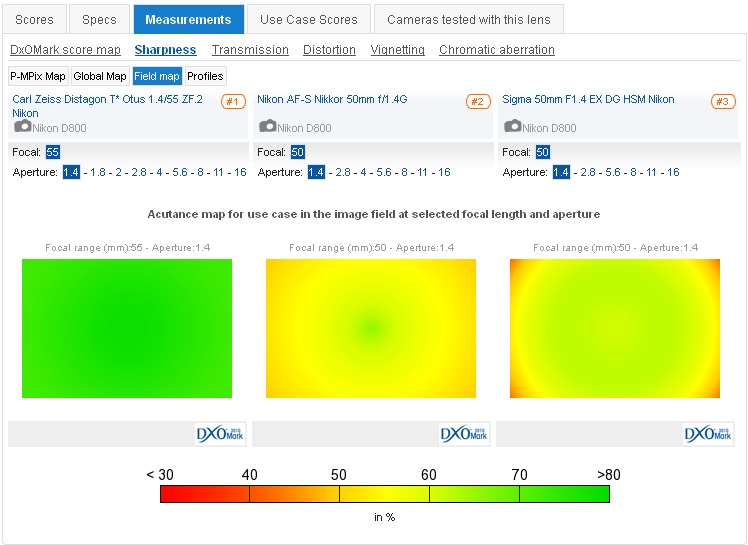 They conclude:
With outstanding optical quality, the Carl Zeiss Otus 1,4/55 certainly represents a high water mark for a retrofocus fast standard for DSLRs. However, it might not be the high price that deters people, in practical terms the large size and lack of autofocus may be the more limiting aspects, but there's no denying optical quality like this demands attention.
Well, it seems clear there are few lenses like the Zeiss Otus (Otus is a kind of Owl) in the world. I wonder how it performs against an Arri Master Prime?
What do you think? Are you planning to put down $4,000 for a 55m f/1.4 prime?