Disclosure:
Links in this post may be to our affiliates; sales through affiliate links may benefit this site. Please help support this website by patronizing Amazon. It won't cost you anything extra.
This comparison is for the cash-starved indie filmmaker who wants to make a 2 hour movie. The price ceiling for low budget cinema-worthy cameras has reached the $3,000 level as of 2012.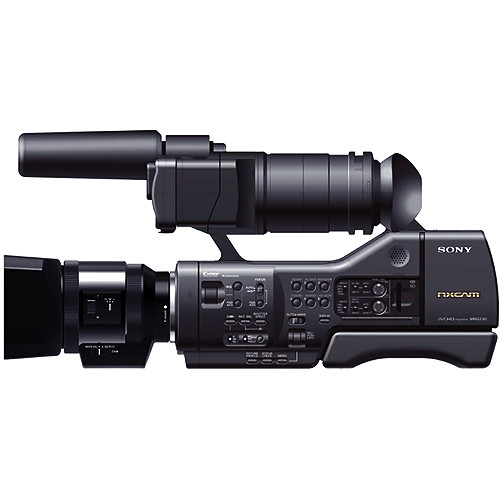 In this post, I'll compare the Blackmagic Cinema Camera, the Sony NEX-EA50, Sony NEX-FS100, Sony NEX-VG20 and the Nikon D800.
The key to equalizing features is to level the playing field. If you don't feel the necessity for any feature or item I've added, you can always strike it off the list and reduce the price. I've only added those items that I felt led to a fair comparison. My notes follow the chart. If I've made any errors or omissions, please forgive me.
Here's the full comparison chart (Click to Enlarge):
Notes:
1. Some basic assumptions I've made are as follows:
Shooting ratio is 5:1 for a 2 hour project
Typical shooting day needs 8 hours of camera battery time, minimum
An average of 2 hours will be recorded per day
2. The lens used is 18-200mm, in whatever mount it comes in.
3. I've added external monitors to all cameras to equalize the 5″ advantage the Blackmagic camera has. Some would argue whether this is an advantage at all, but I didn't want to appear uncharitable.
4. A viewfinder is an absolute must. I don't think the Blackmagic camera can run in all conditions with an optical viewfinder, so I've added the cost for an electronic viewfinder for it specifically. To read more about rigging a BMCC, read my complete rigging guide here.
5. I've added the cheapest shoulder rig baseplate and rod design I could find, because some might be happy to leave the camera on the tripod. I've also added a top handle – how are you going to lug the camera around otherwise?
6. Except the NEX-VG20, all the other cameras have respectable audio codecs, but I wouldn't call any of them cinema quality audio.
7. Not everyone might understand what they are getting into when shooting RAW. This is why I've given two versions for the BMCC – RAW and Prores/DNxHD 220 Mbps. Take your pick. Recording uncompressed or compressed HD-SDI/HDMI will need an external recorder, and the data rates are higher than RAW. Check my post here on uncompressed data rates.
All cameras have inherent advantages and disadvantages, and there's no point discussing the 'quality' of the footage. If I had to pick from this list, I'd be torn between the Blackmagic Camera and the new Sony EA50. Here are some thoughts/points:
It's 60p vs 2.5K
There is a substantial cost differential between working with AVCHD vs RAW
Form factor vs box-type
Super35-type sensor vs 16mm type sensor
Low-light characteristics of the sensors in similar lighting conditions
The need for extensive color grading or post production effects
All in all, it's tough to recommend one over the other – they are completely different beasts that just happen to be in similar price brackets. My recommendation is: if you have the extra budget and computing fire power for a RAW workflow, go for it. If you can have your image baked on set, then the EA50 or FS100 is a strong camera for the job.
With good lenses, a stable rig and a creative team (the most important part) both these cameras can work wonders.