There have been some interesting cameras announced at NAB 2014, and probably each and every one of them have taken us by surprise. All the speculations and rumors turned out to be wrong (so far at least!).
This article outlines my opinions on the cameras released so far. It will be revised and updated until the end of NAB 2014.
Blackmagic Design URSA
I have written about the Blackmagic Design URSA specifications and features here. It is easily the most exciting camera announcement at NAB 2014 – 4K with a 10″ monitor, XLR inputs and an interchangeable sensor, all for about $6,000 – what's not to like?
After the initial excitement died down (in my brain), I started thinking about the camera. Overall, my feelings are definitely positive, except for these important points:
The sensor seems to be the same as the Blackmagic Production Camera 4K, which means you're stuck at ISO 400 most of the time
4K tops out at 60 fps
The crop factor is 1.7, almost in Micro Four Thirds territory (2x)
Blackmagic have made it a trademark to ship products late. The July shipment date is something I'll never take seriously. In fact, going by precedent, one should not expect the camera to ship in numbers any time before December 2014. Sorry, Blackmagic Design, you have disappointed people once too often.
Blackmagic Design have not updated the original firmware of the BMCC yet, and the Production Camera 4K does not have RAW recording yet, even though both were promised what seems like ages ago. Today, they claim the URSA is future proof. Really? What if you release another two cameras next NAB?
Black spots, white orbs, noise, moire – the problems that plague low cost sensors and rushed engineering efforts are evident, and have been borne out.
Is there really a need for this camera? It's $3,000 more than the production camera, but does it really deliver that many features that are actually useful?
The camera weighs 7.5 kg (16.5 lbs). The Alexa weighs about the same! It's not a small camera anymore, and with lenses you're looking at a sizable profile. They say you no longer need a rig, but instead you'll need to change your slider, jib, gimball and whatever else you bought for your DSLR.
Yet, you can't fault them on one thing, and that is the image quality delivered at this price point. In this respect they stand alone. However, I find it amusing (and sad) that the original BMCC has the best image quality of all the cameras.
Red Scarlet Dragon and Red Epic Dragon Monochrome
The second one was inevitable, I guess, but is a serious piece of equipment for just black and white. Regarding the first, I feel a bit 'meh'.
Why? Who is this camera for anyway? The Scarlet was supposed to be a camera for the low-budget indie filmmaker. Raising the price point of a 'Scarlet' just to keep up with the Epic seems strange. After all, why not buy the original Epic instead?
The Epic-X is $17,500 (brain only). The Scarlet Dragon is $14,500. The upgrade is $9,500. The Scarlet Dragon can do 12 fps in 6K and 30 fps in 5K. The Epic does 120 fps at 5K. It has enough dynamic range for possibly every indie project. Can someone tell me where the Scarlet fits here? The extra $3,000 you spend can be recovered at resale, since the Epic holds its price better than the Scarlet.
Sony A7s
So strange of Sony! It must take some sort of superior marketing talent to come up with a camera that 'promises' so much on first glance but will probably fall short of the FS700, FS100, F5 and F55. I have written in detail about the Sony A7s here.
What are my thoughts? As a personal investment, I'm tempted. It's a smaller camera for my photography, and with an ISO of up to 100,000 I can still take usable images and video at 20,000 ISO. This rivals the C300 in low light.
True, the 4K needs an external recorder, and that is really a bummer. However, the recorder in question is the Atomos Shogun, which costs $2,000 and comes with a 7″ monitor. In contrast, the Panasonic GH4 has an external unit that is just a glorified converter. The A7s can also input XLRs via an external module. Cost-wise, the A7s will probably be double that of the GH4, but you're getting these incredible features:
Full frame 4K sensor readout – the only camera in the world that can do this (Magic Lantern doesn't have continuous 4K)
Tremendous low-light ability
Can take most lenses
Has an APS-C mode that can shoot 120fps in 720p
It will be extremely interesting to see a head to head video fight between the GH4 and the A7s. Some people are hung up on the 8-bit vs 10-bit difference. There's nobody on earth who can see the difference, and I suggest you ignore these people. I am waiting to upgrade my Canon gear and the A7s looks like a great option. Of course, I'm probably going to hold out until Photokina this year. There is time, the Shogun will only ship in Q3 anyway, so why hurry?
AJA CION
AJA must have caught the Blackmagic Design bug, but they have decided they don't want to be in the low-cost 'almost zero margin' industry. The CION (read the full overview with specs here) looks great on paper (and reminds me of the Ikonoskop):
This Super 35mm global shutter camera records 12-bit Prores in 4K and comes with a PL mount. Internally, it can record 4K in 60 fps, while externally, it can go up to 120 fps. It can also record 4K at 30 fps via Thunderbolt. Now that's what I'm talking about. It comes in a shoulder mounted configuration with XLR and SDI inputs. The only 'negative' to me is the PL mount. An EF mount would really have made this special. Why, AJA?
Price? It's expected to cost about $8,995, and I'd say this is an easy winner over the URSA on paper. Now the question is, who will deliver the better image quality and the best service?
Digital Bolex D16M
Digital Bolex has a surprise up its sleeve, and that is the monochrome version of their revolutionary D16 camera.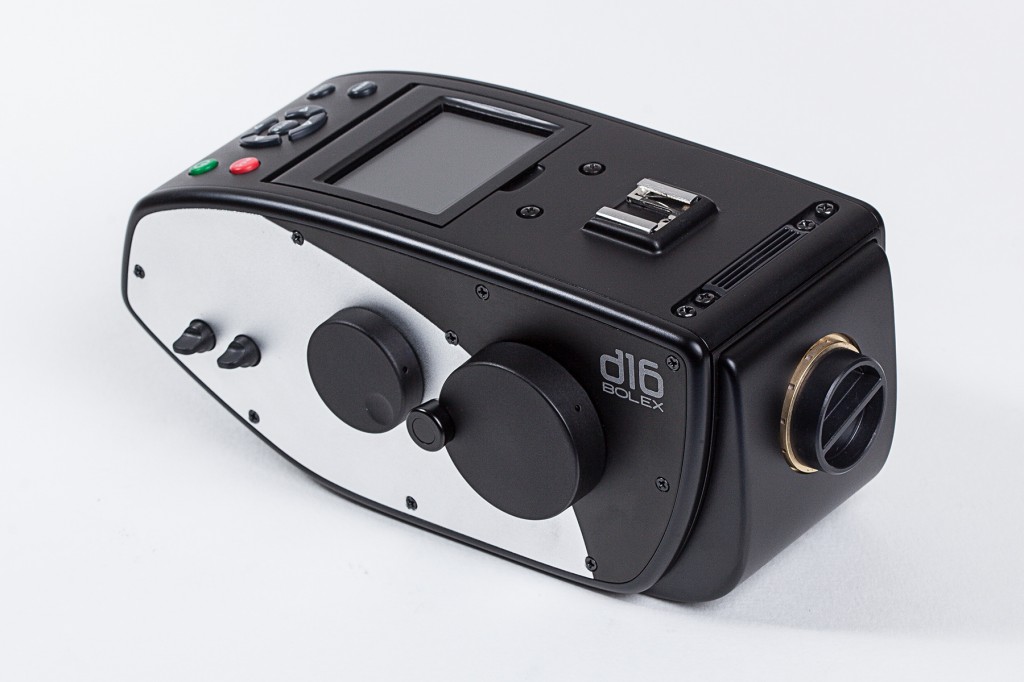 According to Digital Bolex, the technical specs are:
Kodak native monochrome sensor
Same resolution options as D16: Super 16mm (2K), 16mm (HD), and Super 8 (720p)
No OLPF filter to further maximize fine details
ISO 100, 200, 400, 800
500GB Hard Drive
The price is $4,000, and it ships in 8-12 weeks. Here's a video on its capabilities:
What do I think? I think Digital Bolex needs a pat on the back, in fact, a million of them. It's no mean feat to get a camera out in the market, let alone two. Unlike Blackmagic Design, this camera is going to ship and I believe them.
Unfortunately, the price, form factor and features of the Digital Bolex camera are not what I'm looking for.
JVC 4K Cameras
JVC introduced the world's first handheld 4K camcorder (whatever that means), and they invented HDV, so this company does take risks – without taking them.
They have introduced four cameras this NAB, probably hoping one of them will stick somewhere. I love JVC cameras, and have even owned a ProHD camera, but I really don't know which market these cameras will excite. The models are:
GY-LSX1:
Super 35mm sensor, PL mount, 4K at 60p, 1080p at 240 fps, shoots on SDXC in H.264 4:2:2
HDMI or SDI output for 4K
Genlock
GY-LSX2:
Super 35mm sensor, Micro Four Thirds mount, 4K up to 30p, shoots in SDXC cards
GW-SPLS1:
Super 35mm sensor, Micro Four Thirds mount, 4K up to 30p, shoots in SDXC cards
Genlock
7? monitor.
GW-GBLS1:
GW-SPLS1 + gimbal system.
4K at

60p
Is it just me, or has anybody noticed the discrepancy between the Super 35mm sensor and the micro four thirds mount that does not cover that size?
I feel JVC is shooting in the dark, waiting to see what the market demands. Safe strategy, and wise. But not exciting. Anyway, let's not forget JVC is not shooting for the cinema crowd, but the broadcast space. That world is in the dark ages, so we shouldn't be too hard on them.
Panasonic Varicam 35 and HS
VariCam 35 has a Super 35mm sensor that shoots 4K (4096 x 2160) in AVC-ULTRA at up to 120 fps. The camera claims a dynamic range of 14 stops at least, which of course, we'll need to see to believe.
The HS model has a 2/3″ sensor and shoots 1080p at 240fps in AVC-Intra Class100, Class200 and Class4:4:4. Both cameras use the new expressP2 media cards. Price? Do you really want to know? The Varicam 35 costs about $60,000 while the HS has a price of about $55,000.
I just lost interest.
I'll keep them coming as long as the manufacturers keep them coming! Stay tuned. So far, the camera that has me most excited is the AJA CION. Here's a video of Matt Allard talking to Bryce from AJA: