Disclosure:
Links in this post may be to our affiliates; sales through affiliate links may benefit this site. Please help support this website by patronizing Amazon. It won't cost you anything extra.
What's this list about? Cameras are designed for a specific purpose, and the modern trend is to design cameras like boxes. Nothing wrong with this, except that the manufacturers are forgetting that a tool's design can also contribute to its function. An enlightened manufacturer can even take it one step further and inspire.
I came up with this list using three parameters:
Function – the camera must not be ambivalent about its function
Form – the design must contribute to its function
Inspiration – both form and function should also inspire

A camera had to satisfy at least two of the three criteria to even be considered. Another consideration was that these cameras should either be in production or intended for production – concept designs were not considered. One camera in the list is boderline.
Let's get to it:
15
Micro Eyes DVR BallCam SG31
Inside this ping-pong sized ball is a motion-activated video camera. It captures images up to 25fps at 320×240 resolution and supports up to a 16GB micro SD card.
Why is it on the list? First of all it's round! Imagine putting it in a ball for sports.
14
Arri Alexa M
Let's face it. For all its features the Arri Alexa range of cameras are boxes. The M however, is the pretty little sister who packs a punch.
Why is it on the list? From handheld to 3D to underwater, the M can do what its bigger siblings can't.
13
Iconix Video HEAD-RH1 Compact HD Camera
1080p Broadcast quality in a flashlight body. Don't you want it?
Why is it on the list? Stick it on your helmet, or take it to the moon.
12
Dalsa Evolution 4K
When Dalsa announced the Evolution in 2008 it was a 4K camera everyone wanted. And it looked like it could deliver, unlike its competitors.


Why is it on the list? Take a look at it again – it's the only 4K camera that can be shoulder mounted.
11
Vaddio CeilingVIEW HD Ceiling-mounted Camera
Can a camera be a truly invisible observer that does not influence events? It seems like it can!
Why is it on the list? This camera more than any other highlights what cameras in the future will look like – if you can see them!
10
Samsung SMX-C20 Ultra-Compact Camcorder
This has got to be the prettiest camcorder ever.
Why is it on the list? Not only do you have a cool camcorder, but it's so beautiful you'll want to take it everywhere you go.
9
Sony PDW700 XDCAM HD 2/3″ 3CCD Camera
Sony is broadcast. Their cameras are made to withstand the test of time, and incompetent operators. This one is as awe-inspiring as a T-Rex.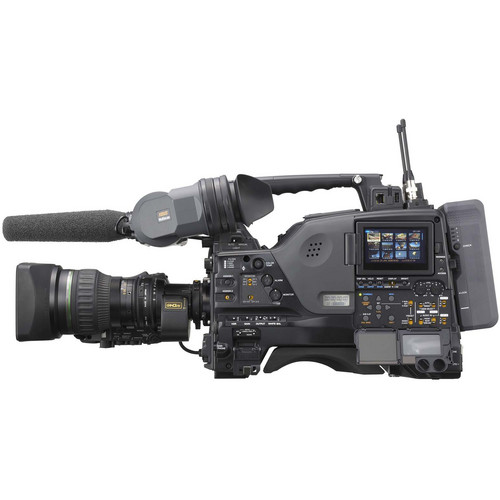 Why is it on the list? Somehow Sony was able to fit its unlimited features (has anyone in the world ever used all of them?) in a form factor that is suitable for any type of broadcast work.
8
Logitech Alert 700i
Security cameras should be heard and not seen! This camera is in serious trouble of being stolen along with everything else.
Why is it on the list? It tells us there are no boring scenarios for cameras – this camera can be stuck on any wall or tree, and it is designed to stay hidden. But imagine the pleasure of finding it!
to see numbers 7 to 1.